I was always under the impression that straight lines should refract and reflect via planar surfaces into straight lines. Cycles seems not to do this in certain instances. In the video below you can see it best on the left face at the start and the right face at the end of the sequence. At first I thought it was a problem with my HDRi but it seems surrounding geometry creates the same effect. Am I wrong in my assumptions, do I have some settings or parameters incorrect in my materials or environment or is this a "feature" of Cycles?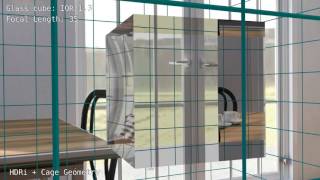 Refraction example on YouTube
Here's the Blend file (slightly edited since this video was made):
Here's a single face of the cube and no HDRi showing the effect.